Panpipes / Panflute
The panpipes, or pan flute, is a wind instrument consisting of multiple pipes of gradually increasing length. It is blown like a bottle, which may require a little practice but is relatively easy to master. Each pipe has a different tone. The more pipes, the more tones you can get out of the instrument.
Our panpipes are momentarily out of stock.
Contact
Info@Fluteshop.eu
+31 6 188 37 497
Shopping cart
No items in shopping cart.
Payment Options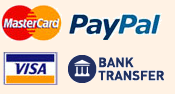 Guestbook
12-12-2020

- Dear Fluteshop,

After ordering my first wind instruments at your webshop... 

read more

02-12-2020

- Superb service from Fluteshop regarding my order! Detailed answers to... 

read more

30-11-2020

- I order my daughter Kalimpa thumb piano. Today it finally... 

read more
New message