Frequently Asked Questions
How do I get in contact with you?
You can send us an email at info@FluteShop.eu or call us at +31 618 837 497.
I've never played any flute before, which one should I start with?
This is very personal, therefore we recommend you to send us an email and let us know which kind of music you'd like to play, and which kind of sound you like in a flute. We usually respond the same day, and together we can find the flute that suits you the best! If you have small hands, don't forget to mention it.
Regarding orders, shipping and returns:
How fast will my order be shipped?
All flutes in our webshop are directly in stock. Our orders are dispatched within 24 hours after receiving the order. The flute will be carefully packaged, packed in a strong flute box and the parcel will be shipped with Track and Trace and with full insurance. You will receive the Tracking code after your order has been shipped.
We dispatch from The Netherlands. If your country of residence is close to us, you may receive your order within 1 to 2 working days. Generally, for an order to a country within the EU, please allow 1-4 working days for the parcel to arrive.
Is it possible to return my purchase?
It's important to be satisfied with your ordered instrument, therefore it is possible to return your order in case you are not completely satisfied. Returns have to be requested within 14 days after receiving your order. The product then has to be shipped to us within one week after informing us of the return. We will only accept returns when the product is still completely undamaged. This includes the packaging, which has to be as close to undamaged as possible after opening it. Once the flute has arrived here and it has been inspected, we will refund the full price of the instrument.
Should you want to return your purchase, please inform us beforehand by mailing us at info@FluteShop.eu.
What are the payment options?
It is possible to pay by Paypal, Credit Card (VISA and MasterCard), Pre Transfer (A banktransfer), Ideal, Bancontact/Mistercash or by paying in cash at our store in Wormerveer, The Netherlands.
Got any other questions?
Please do not hestitate to ask any question, wether it is about our service or about a specific question related to an instrument. You can contact us at info@FluteShop.eu. We will get back to you as quickly as possible!
Contact
Info@Fluteshop.eu
+31 6 188 37 497
Shopping cart
No items in shopping cart.
Payment Options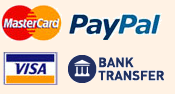 Guestbook
Lare, Finland
Thank you for the beautiful shakuhachi. It just arrived, and I'm already playing some notes. Really enjoying it. ???? All the best from Finland
Luca, Italy
Dear fluteshop, I received my new Arabian flute. It sounds wonderful, enchanting!!
Thank you guys and thanks to Erik the flute maker
George, United Kingdom
I've received my spirit flute today ...