Native American Bass Flutes
Bass flutes sound lower and deeper than your average Native American flute. Our catalog of Bass Flutes consists of flutes in the key of Bass D, Bass B, and Contrabass F#. The Bass D flute is playable for pretty much everyone with practice, the Bass B and Contrabass F# are recommended for people with average to large hands.
Contact
Info@Fluteshop.eu
+31 6 188 37 497
Shopping cart
No items in shopping cart.
Payment Options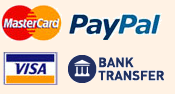 Guestbook
08-04-2020

- I just want to say that the flute has arrived... 

read more

23-03-2020

- Thank you so much for the kind and helpful responses... 

read more

25-02-2020

- Finally managed to save up enough for Erik the Flutemaker's... 

read more
New message