Pentatonic bamboo flute
It may be the most popular scale for solo playing and improvising: the minor pentatonic scale. When you're playing in this scale, which consists of only five notes, you can hardly go wrong. Anything you do will sound right, and once you're getting good you'll sound brilliant. Playing in the minor pentatonic scale is a great way to improve your musicality, your melodic phrasing and your improvisational skills.
Click on the instruments and discover their beautiful sound!
Contact
Info@Fluteshop.eu
+31 6 188 37 497
Shopping cart
No items in shopping cart.
Payment Options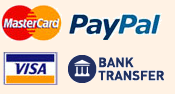 Guestbook
12-12-2020

- Dear Fluteshop,

After ordering my first wind instruments at your webshop... 

read more

02-12-2020

- Superb service from Fluteshop regarding my order! Detailed answers to... 

read more

30-11-2020

- I order my daughter Kalimpa thumb piano. Today it finally... 

read more
New message