Bamboo flutes with Exotic scales
These flutes have a very eastern, sometimes magical sound to them because of the way they are tuned. There is a specific set of notes that can be played on these flutes that give them their melodic balance. Click on a picture to find out more about a certain flute, and to listen to it!
Click on the instruments and discover their beautiful sound!
Contact
Info@Fluteshop.eu
+31 6 188 37 497
Shopping cart
No items in shopping cart.
Payment Options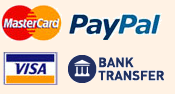 Guestbook
12-12-2020

- Dear Fluteshop,

After ordering my first wind instruments at your webshop... 

read more

02-12-2020

- Superb service from Fluteshop regarding my order! Detailed answers to... 

read more

30-11-2020

- I order my daughter Kalimpa thumb piano. Today it finally... 

read more
New message