The Indian Bansuri Flute
The Bansuri is a side-blown bamboo flute from India. It is held horizontally. It can be heared in various eastern musical genres, including Indian classical music and Raga music.
Contact
Info@Fluteshop.eu
+31 6 188 37 497
Shopping cart
No items in shopping cart.
Payment Options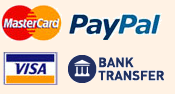 Guestbook
Lare, Finland
Thank you for the beautiful shakuhachi. It just arrived, and I'm already playing some notes. Really enjoying it. ???? All the best from Finland
Luca, Italy
Dear fluteshop, I received my new Arabian flute. It sounds wonderful, enchanting!!
Thank you guys and thanks to Erik the flute maker
George, United Kingdom
I've received my spirit flute today ...