Erik the Flutemaker Brazilian Major Flute (G)

A moderately deep flute that plays in the Major and Minor scale. Concert tuned to G.

- Made by Erik the Flutemaker
- Side-blown
- Suited for all adult hand sizes

Click the image for more info and to listen!

€ 149,95

-33%

Erik the Flutemaker Oriental Flute (D)

A deep, mystical sounding pentatonic flute, inspired by the Japanese shakuhachi.

- Made by Erik the Flutemaker
- Side-blown
- Suited for medium to large hands

Click the image to read more and to listen!

€ 159,95

Erik the Flutemaker End-blown Oriental Flute (D)

This handcrafted flute made by Erik the Flutemaker plays in the minor pentatonic scale, and sounds deep, calming and meditative. Anything you play automatically sounds good

Click the image for more information about this flute!

€ 149,95
Concert pitched bamboo flute
Do you like playing your bamboo flute together with fellow musicians? Then a concert tuned bamboo flute is what you need! These flutes have all been tuned to play in tune with a piano when playing at or near room temperature.
Click on the instruments and discover their beautiful sound!
Contact
Info@Fluteshop.eu
+31 6 188 37 497
Shopping cart
No items in shopping cart.
Payment Options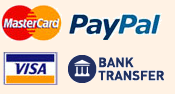 Guestbook
Lare, Finland
Thank you for the beautiful shakuhachi. It just arrived, and I'm already playing some notes. Really enjoying it. ???? All the best from Finland
Luca, Italy
Dear fluteshop, I received my new Arabian flute. It sounds wonderful, enchanting!!
Thank you guys and thanks to Erik the flute maker
George, United Kingdom
I've received my spirit flute today ...