Tin whistles - Standard class
Never played a tin whistle before? Perhaps it's wise to start with a simple model to see if playing the tin whistle is something enjoyable for you. A cheap tin whistle is not a bad instrument. There are many professional Irish musicians that still play on some of the cheapest pennywhistles. On this page you will find tin whistles of the following brands: Generation, Clarke, Feadog, Waltons.
Contact
Info@Fluteshop.eu
+31 6 188 37 497
Shopping cart
No items in shopping cart.
Payment Options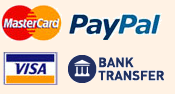 Guestbook
12-12-2020

- Dear Fluteshop,

After ordering my first wind instruments at your webshop... 

read more

02-12-2020

- Superb service from Fluteshop regarding my order! Detailed answers to... 

read more

30-11-2020

- I order my daughter Kalimpa thumb piano. Today it finally... 

read more
New message