-35%

Clarke Sweetone Tin Whistle (D / C)

Great tin whistle for new players by Clarke. Suited for beginners and for all hand sizes. Available in the key of D major.

Click the image for more information about this instrument!

€ 7,95

Clarke Original Tin Whistle (D / C)

Classic tin whistle by Clarke. Suited for beginners and for all hand sizes. Available in various keys.

Click the image for more information about this instrument!

€ 15,95

Generation Brass Tin Whistle (D / C / Bb)

Basic tin whistle by Generation. Suited for beginners and for all hand sizes. Available in various keys.

Click the image for more information about this instrument!

€ 8,95

Generation Nickel Tin Whistle (D / C / Bb)

Basic tin whistle by Generation. Suited for beginners and for all hand sizes. Available in various keys.

Click the image for more information about this instrument!

€ 9,95

Waltons Irish Set (Whistle + Book + CD)

Tin whistle + song book + CD by Waltons. Suited for beginners and for all hand sizes. The whistle comes in the key of D

Click the image for more information about this set!

€ 24,95

Brush for tin whistles

Keep your whistle clean on the inside with the Clarke tin whistle brush. Quickly and effectively use this brush after a playing session by gently cleaning the inside with the rod.

€ 9,95
Tin whistles - Standard class
Never played a tin whistle before? Perhaps it's wise to start with a simple model to see if playing the tin whistle is something enjoyable for you. A cheap tin whistle is not a bad instrument. There are many professional Irish musicians that still play on some of the cheapest pennywhistles. On this page you will find tin whistles of the following brands: Generation, Clarke, Feadog, Waltons.
Contact
Info@Fluteshop.eu
+31 6 188 37 497
Shopping cart
No items in shopping cart.
Payment Options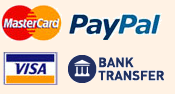 Guestbook
Lare, Finland
Thank you for the beautiful shakuhachi. It just arrived, and I'm already playing some notes. Really enjoying it. ???? All the best from Finland
Luca, Italy
Dear fluteshop, I received my new Arabian flute. It sounds wonderful, enchanting!!
Thank you guys and thanks to Erik the flute maker
George, United Kingdom
I've received my spirit flute today ...