-33%

Bamboo (Uta) Shinobue + Bag + Playing Instructions

This Shinobue flute is of the Uta type, the most common type of Shinobue. It is heard in Shinto music such as kagura-den and in traditional Japanese folk.

The flute is fully made of bamboo and plays in C major and D minor.

€ 49,95

-32%

-33%

-25%

Membrane papers for Dimo (Dizi)

This pack includes several strips of membrane paper. By cutting off a little bit of the strip and pasting it over the Dizi flute using a special glue you will give your Dizi the buzzy timbre that the flute is known for.

€ 2,95

-17%
Eastern / Asian flutes
There are many traditional Asian flutes that are rarely heared in western society. Currently we provide the Dizi (Chinese transverse flute), Xiao (Chinese end-blown flute), Shakuhachi (Japanese end-blown flute), Shinobue (Japanese side-blown flute), Bansuri (Indian bamboo flute) and Ney (Turkish rim-blown flute).
Contact
Info@Fluteshop.eu
+31 6 188 37 497
Shopping cart
No items in shopping cart.
Payment Options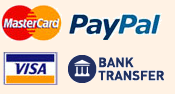 Guestbook
Lare, Finland
Thank you for the beautiful shakuhachi. It just arrived, and I'm already playing some notes. Really enjoying it. ???? All the best from Finland
Luca, Italy
Dear fluteshop, I received my new Arabian flute. It sounds wonderful, enchanting!!
Thank you guys and thanks to Erik the flute maker
George, United Kingdom
I've received my spirit flute today ...